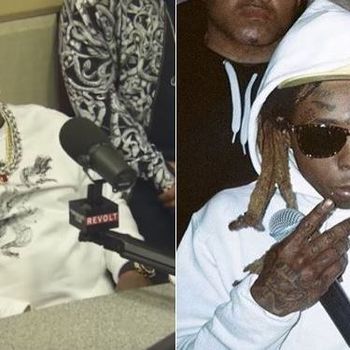 JAY-Z's original version of "Family Feud" was about putting differences aside.
There's a bit of that in the Lil Wayne featuring Drake version of the track, in particular when Drake expresses sympathy for Meek Mill's legal situation.
But they both stress their differences with Birdman in their bars. Drake goes first,  with a verse about Wayne's bad situation with Cash Money and its parent company:
"Ayy, tell me if TD bank is approving loans / I'm thinking about paying Wayne what Universal owes / My nigga spent a lifetime going platinum and gold / He should own half of the label, shit outta control."
Wayne is more direct in his attack on Birdman. His bars are peppered with subs and direct references to his former father figure.
"I flipped the bird at the bird / Hey whats for dinner? Popeyes / These chickens got bird flu and they chirp, chirp too / Always sung, never flew / These boys hide girls too / If money grow on trees / I climb and rest in that bitch / Build a treehouse and knocked the bird nest out that bitch … Now back to whipping the Baby / On some step mama shit / I come direct with my shit / I come correct with my shit / A blank check on your face / Put some respect on my shit / Branches starting to shake / Here comes the leaves, get the rake / I want my piece of the cake."